For Canada immigration, you have to provide language test results from an authorized organization.  This means that writing the IELTS exam and getting the required CLB for the immigration pathway that you want to apply for is a hurdle you must pass before becoming a Canadain Permanent resident.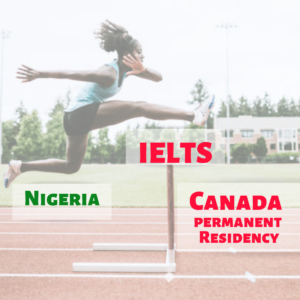 There are two authorized test providers in English, the International English Language Testing System (IELTS) and the Canadian English Language Proficiency Index Program (CELPIP).
No matter which language test you take, the results must be from within the last two years (24 months) to be valid.
In Nigeria, IELTS that is the most common language test and has testing centres in major cities in Nigeria. IELTS assign a score 
IELTS is an internationally available English proficiency test. We usually recommend our clients take the IELTS, and provide them with IELTS training. We offer both online and offline coaching to our clients.
Click here to register for our online class
Click here to register for our offline (one-on-one) coaching class.
There are two categories of IELTS: General Training and Academic. For Canadian immigration, you should take the IELTS – General Training.   IELTS results provide a score for each of the four language abilities (listening, reading, writing and speaking), as well as an overall band score that averages your results in each ability. For Canadian immigration purposes, your overall band score does not matter.
Most Canadian economic immigration programs have minimum language requirements, but they are not all the same. So the score you need to get may depend on the program you're applying to.
However, many programs operate on points systems. Points may be awarded for things like age, work experience, and education, in addition to language proficiency. Depending on your profile, the language test score you need to qualify could be different from the minimum requirement.
Our advice is to give it your best effort.  The important thing to remember is that these are tests. Even if you are confident in your English, you should prepare by studying and doing practice tests.
JOIN OUR IELTS ONLINE
COACHING/ACCOUNTABILITY CLASS TODAY
When it comes to the IELTS test, there are a variety of ways to prepare. Some test takers prefer to study on their own, while others prefer taking IELTS classes. Finding an IELTS tutor that understands your need to score a minimum band score of 7 on all four language abilities for your immigration purpose is different ball game altogether.
We are Canada immigration experts and understands your need to get your desired score, we don't just coach you we hold you accountable to practise every day.
If you are serious about preparing for your IELTS in the best possible way, click here to join our class NOW.
Here are some of the benefits of joining our online coaching and accountability class
A complete proven method that has helped other students get a band of 7 and above.

A comprehensive IELTS course outline allowing you to learn in your own time at the comfort of your home.

Tips showing you what to do for every single question type in all aspects of the test. We show you how to give the examiner exactly what they want.

We tell you exactly why you are not getting the score you need and tell you exactly what you need to do in order to get the score you deserve.  

Lower total cost, our offline class is way more expensive.

Get assistance with your IELTS Test Booking

Lots of Videos

Writing Corrections

Full Practice tests

Documentation – All the information you need will be well stored in the online database.

Increased tutor-student time

Networking opportunities within the community – you can improve your speaking skills and enhance your fluency by practising with a fellow student. 
If you need to pass the IELTS exam to get yourself a better life, look no further! We've got you covered.
WHO IS THIS IELTS COACHING/ACCOUNTABILITY CLASS FOR?
You have taken the IELTS many times and you keep getting 6 or 6.5 or even less in writing.

You got very high scores in Reading, Listening, Speaking, but you need extra help with Writing.

You need a very high score in all aspects of the test to boost your CRS score in the Express Entry Pool.

You have never done the IELTS test before and you want to ensure you get a high score once.
What is needed for this course?
All you need is a stable internet connection, your phone, Telegram App, a laptop or a desktop, a set of headphones, a notebook and a pen.
---
The seats are subject to First Come, First Served basis.
You won't get it at this price after this batch.
---
Book your seat today by clicking HERE

to pay online
OR
For customers who would love to make a transfer, the total fee is N5,000. Please pay into our GTBank account:
Dinspira Nigeria Limited
0421448206.
You won't get this class at this price after this batch